I had the opportunity to taste a very unusual and interesting wine recently, a wine made from ungrafted, pre-phylloxera vines. Something that I have had the opportunity to taste only a handful of times in my life.
My colleague, on a recent trip to Portugal, brought back a 50cl bottle of wine from the Colares DOC. The Colares DOC sits along the Southwestern Atlantic Coast, Northwest of Lisbon.
The vineyards are situated on a sandy plateau where the vines must be planted deep into the clay subsoil below. Because of the sandy soil, the vines are free of Phylloxera and therefore, have never been grafted to a different (North American) rootstock. Colares is best known for its red wines, which are made primarily from the Ramisco grape (whose vineyards have been reduced to a measly 10 ha, or 100,000 square meters). The wines are generally tannic and full-bodied with spice like aromas that require considerable ageing.[1]
The wine I had the opportunity to taste was produced by the Adega Regional De Colares, and was 100% Ramisco.  At first glance, the wine showed its almost 10 year old age, light in color with slight browning on the edges, reminding me somewhat of an aged Nebbiolo. On the nose, it reminded me of the wines I have tasted from the Bairrada region made with the Baga grape. Scents of roses, (sour) cherries and some tar. The nose promised something special was awaiting my lips. On the palate, the wine's fruit was "showing" significant age (or was it?) and was overpowered by its earthy tones and aggressive tannins (something I love by the way). Some oxidative notes were also there. The finish was around 20-30 seconds. Interesting…
My initial thoughts were that this wine was on the decline and the fruit faded. However, I paused and began to think. Maybe this is exactly what the wine is supposed to be like. Is this the way wines tasted in Europe before the devastating effects of the Phylloxera louse more than a century ago? Very rustic, earthy and tannic? Where was the "fresh" fruit we look for in today's wines that help create balance? Is this the way this wine should be or, had it seen better days? I am afraid I don't know the answer to this. From my research these wines need extensive ageing, so assuming this bottle was stored correctly (should I assume this?), then maybe this is the way wines used to be. Maybe some of you out there have tasted a Colares DOC wine?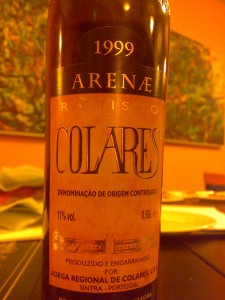 I suppose I should try and get my hands on a few more bottles to make my assessment, but since very few bottles make it out of Portugal's Colares region, I may have to wait until I take a trip to Portugal!
(Check out TIME's "Rare Earth" article from April of 2008 for more on Colares DOC)
1] Information on the Colares DOC borrowed from Epicurious.com's Wine Dictionary
Informação e links interessantes encontrados aqui, um site sobre vinhos.